Sameeksha UK National Doubles Badminton Tournament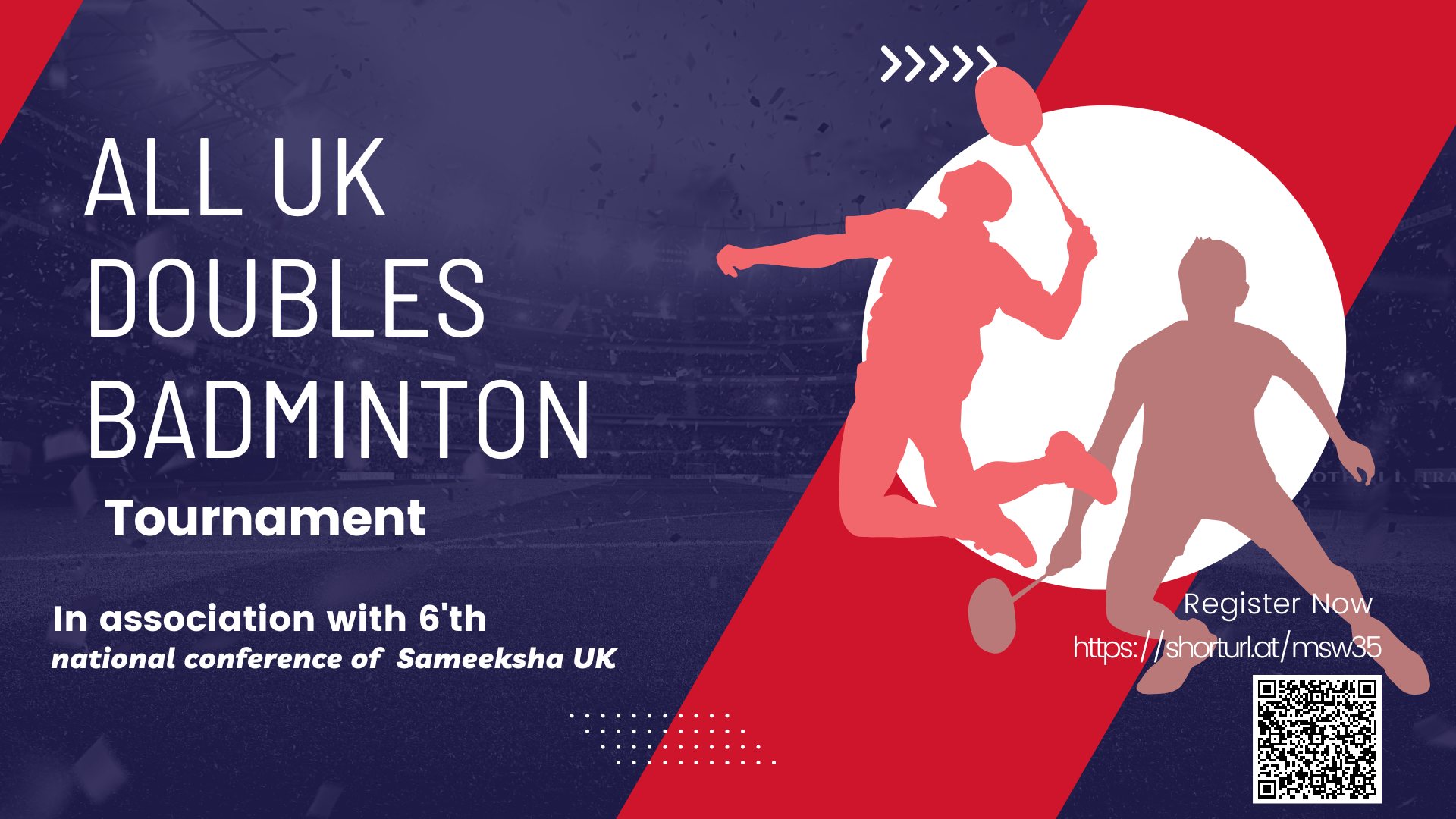 Sameeksha UK is excited to announce the National Badminton Tournament which will be organised prior to 6th National Conference of Sameeksha UK.
The national finale entries will be determined through regional level competitions . The regional competitions will be conducted at 15 different venues across UK with the participation of more than 200 teams. The National finale will be held at Manchester on 25th March 2023
Prizes:
Exuberant prizes are waiting for the winners . Sameeksha UK is delighted to announce that the finalists from the re
gional competitions will compete on the National grand finale. The winners will be receiving a first prize of £1,001and the Sameeksha UK Ever Rolling Trophy. The runner up will receive prize of £501and a Trophy. The third runner up will obtain £251 with a trophy and the 4th runner up will get £ 101 and a Trophy.
Organising Committee:
An excellent organising committee is formed for the successful coordination of the National Badminton tournament . The committee includes regional coordinators alongside Sameeksha UK National committee members. The team will be lead by Jiju Phillip Simon and Jomin Jose.
Competition:
Sameeksha UK is absolutely delighted and we are looking forward to see exciting performances with great participation . The competitive talents across the UK will certainly mark this event as a memorable and historic one !!!
"We are thrilled to be hosting this National Badminton Tournament and are confident that it will be a huge success," said Jiju Simon, Head of the Badminton coordination Committee.
Registration:
The registration fees for the tournament is £25. The National level players of any country and Badminton England's A, B, C and D category players are not entitled to participate the tournament. Follow the link below or use the QR code for the registration.
https://shorturl.at/msw35
Regional Venues:
1. Manchester: 25th February
2. Northampton: 25th February
3. Bedford: 5th March
4. Exeter: 26th February
5. Boston: 12th March
6. Gloucestershire: 26th February
7. Coventry: 11th March
8. Londonderry: 11th February
9. Kettering: 4th February
10. Eastham: 25th February
11. Ipswich: 4th March
12. Belfast: TBC
13. Edinburgh: TBC
14. Heathrow: TBC
15. Sheffield:TBC
Contact:
For enquires , please contact Head of Coordination Committee:
Jiju Philip Simon: 07886410604
Jomin Jose: 07459 729609